Saturday Session 09: Travel + Money for Millennials with the Hello HENRY's
Welcome to this month's Saturday Session! Today, I'm talking to the ladies from Hello HENRY's, Lauren + Kelda.
These ladies run their own website and offer financial services, in addition to their other jobs. This past year or so, I have been focusing on my own finances and working toward saving money for retirement as well as a fully funded emergency fund and I've basically been figuring out what adults do with their money. I have always felt that while we all have a responsibility to take an active role in our finances, I do wonder why nothing to do with being an adult was really covered in school.
In my own experience, I have found that not many people around our age group (the millennials) have this stuff figured out either, and it genuinely scares me a little bit to know how poorly many people in this generation handle their money.
So, I am very excited to talk to Lauren + Kelda today and we're going to talk through all kinds of money + millennial things as well as how to maximize opportunities like travel credit cards responsibly and getting the most out of your vacation time if you have a more traditional job.
listen below!
On Millennials + Money
Q1. What prompted you to specialize in millennials + money and do you think the reputation about millennials is generally correct?
Find this question at: 00:07:20
Q2. What worries you most in regards to your peers + money?
Find this question at: 00:11:18
Q3. What areas should millennials be focusing on the most?
Find this question at: 00:15:40
Travel Credit Cards
Q4. How can we maximize those travel card opportunities + make sure we are using them responsibly?
Find this question at: 00:20:32
Q5. I know you two have some great tips in regards to maximizing travel cards, what are some of your best tips and strategies?
Find this question at: 00:26:45
Saving + Retirement
Q6. Saving money (for trips, a new car, house, etc) when you don't have a traditional 9-5 job?
Find this question at: 00:31:13
Q7. Retirement strategies for non-traditional jobs?
Find this question at: 00:34:29
And we are back with regular episodes which will now be released every other Friday. We have some great episodes coming up on Thailand and Yosemite. Audriana just got back from Croatia where she did Yacht Week, so when she gets back, we'll record an episode all about her experience and her thoughts on Yacht Week there!
We'd LOVE a review from you!
I have also been reaching out to companies to ask if they want to advertise with us. It's important to us to find companies which are a good fit for our audience and our goal is to provide outstanding episodes to you and therefore, we will make it a priority to limit the ad-time for each episode. There's nothing worse than listening to an episode and having it almost not be worth it to listen because of all the ads. If you want to read our full policy on ads and working with companies, I will always be as forthcoming and open with this information as I can.

All of this is to say that as I reach out to companies, it is always helpful to have a collection of wonderful 5-Star reviews from you guys! While we have a solid amount, it helps us tremendously to be able to point to what our listeners have to say about us as we pitch them. Reviewing and subscribing to this podcast is one of the ways you can help and it truly takes about 20 seconds. If you have time and love the content we make for you, we would LOVE if you took the time to leave us a review!
Again, thank you to our guests Lauren + Kelda for coming on today and they have a wealth of resources on their website for all things millennials + money, so be sure to check it out!

What is your biggest obstacle when it comes to managing your finances?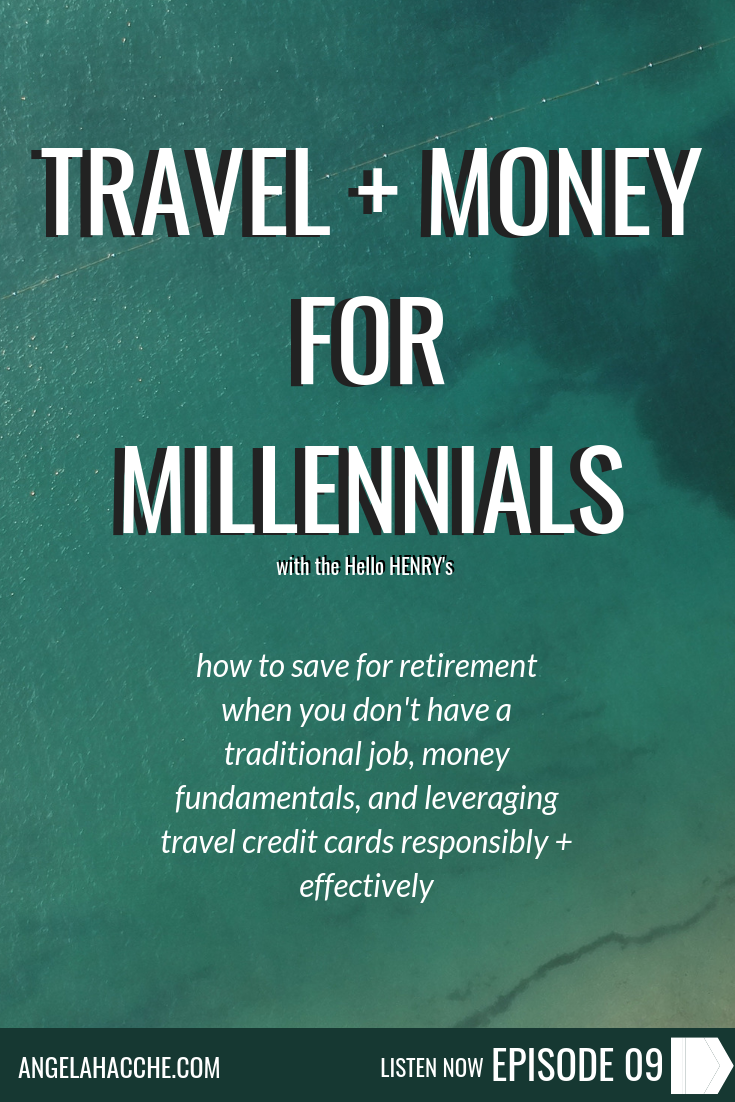 If you hover over the left-hand corner of that image over there ——-> , you can save this bad-boy for your future trip-planning resources!
This post may contain affiliate links. This means if you choose to purchase, or sign up for something we provided a link for in this post, we may earn a small commission. Please keep in mind that we would rather throw ourselves into the FIRES OF MORDOR than give you a link to something we don't actually use, care about, or recommend highly. We simply use affiliate programs so we can keep this website ad free and earn a little money to keep this site going.