Episode 19: Ethical + Responsible Animal Tourism
We are heading out to Thailand in about 10 days and we are going to do lots of things...beaches, city, temples, and spending some time with my favorite animal, the elephant! Having this trip coming up got us on the topic of today's episode of ethical and responsible tourism.
As we have mentioned before, we do our fair share of research before traveling and we try to understand the basics of etiquette, dressing appropriately, tipping, and all that good stuff. So when we knew we would be going to Thailand, it was an obvious choice to go spend some time at an elephant sanctuary. We started doing our research about places to go and found that you can have a variety of experiences with the animals...some offering that you can come feed them, and give them a bath, and just hangout in general. But, there were still some which offer riding the elephant, which I guess we both just figured people weren't doing anymore?
Anyway, today we'll be talking about some of those things we've seen people still doing on social media, why they are now starting to be understood as unethical, as well as alternatives to these. We'll also give you some good companies that still allow things like elephant and tiger interactions, but who have taken the steps to make their experience an ethical one.
listen below!
Let's get some context:
This is definitely something that is on the radar of some travelers, but we have talked to (and seen people on social media) who , I think, just don't know some of these experiences are unethical. A few years ago, it seemed like there was plenty of photos on social media of people holding tigers, hanging out with lion cubs, and having all kinds of animal interactions.
In the past few years, there has been an increasing awareness that not every place which offers these animal interactions is the most ethical. We'll get into some specific examples later, next!
As recent as 2016, TripAdvisor stopped selling tickets to attractions offering physical interaction with wild animals.
And there are still tour companies today, right now, that will let you ride elephants and cuddle with tiger cubs. I just saw an itinerary someone is putting together in Thailand that included an elephant experience that they would let them, "feed them, bathe them, play with them, and get on their backs with no saddle."
So, why are these animal experiences unethical?
Examples of unethical + irresponsible animal tourism:
Keep in mind, not every animal encounter is UN-ethical. The goal of this episode and post is to emphasize the differences between those that are, and those that are not. Additionally, we hope to provide you with some resources you can use as you plan your own trips!
Elephant experiences
In places like Thailand, you'll see advertisements everywhere that show a variety of elephant encounters. Some of them having smiling tourists atop elephants, and they are plastered everywhere — inside the tuk tuks, on posters around town, and people will hand out cards to you for these places.
Here's why riding elephants is not the best thing. Young elephants are taken from their mothers and introduced to kind of terrible "training" which allows humans to ride them. This process is called, "the crush" and those doing it to the elephants essentially torture them to break their wills. Elephants are only able to take a rider after this process and they pretty much just do so because they are scared shitless of the trainers who have abused them to do so.
The second reason this is unethical is because an elephant's back is not meant to hold the weight of a person, or multiple people. The spot where the saddle is often placed, or where the rider sits, is the weakest point of the elephant's back. And especially those elephants in these places who are taking tourist after tourist on their back every single day — you can imagine the damage.
The third reason, of course, are the conditions and standards. In places like Thailand where the daily wage is considerably lower than many of those traveling there, these elephants are money-making machines, and they are treated as such. Taking tourists on their backs and made to perform each and every day, as much as they can get out of them.
As with anything that is a business and the money directly affects these people's liveliness, there are always people doing shitty, unethical things to make a living. In these cases, exploiting animals for tourism.
Now, there are more places that are making the extra effort to be an ethical, elephant sanctuary.
African safari + Big Game Drives
This is something we found out fairly recently: poachers are using social media to find out about recent game sightings and their exact locations. By using this tactic, they are able to know exactly where the prey they're looking for was last seen and can, in turn, go poach these animals.
TIP: If you're going on a Safari, a Big Game Drive or something similar, please wait to post photos OR just don't make it obvious where the exact location is. Many game drivers and tour companies will make sure to emphasize this while you're out there, but knowing ahead of time certainly helps everyone understand the effects such a harmless social media posting can be.
We know how exciting it is to be doing incredible things and want to share it, and it sucks balls that poachers are using these platforms to track down and illegally hunt these animals.
Tiger encounters
This seems to have gotten less popular in the past few years, but I think if you've done an amount of international travel, or spend lots of time on social media, you'll have seen pictures of people at tiger encounters.
In these instances, those visiting are usually snuggling with full-grown tigers, or playing with tiger cubs.
We'll again use Thailand as an example as there have been (and still are) several instances of unethical tiger encounters. While there are some places which are more ethical and then there are ones that are kinda scary the more you find out about them.
Why are they unethical?
Some of these places engage in something called "speed breeding" which means that right after cubs are born, they're taken away from the mothers. This way, the mothers are ready to be bred again, right away. Since this is another money making tourist activity, the more tiger cubs they can produce, the more opportunities they have to make money.
And, of course, tourists didn't want to take pictures with adolescent tigers, the most popular were the youngest cubs. This meant that those brand new tiger cubs were in demand.
The most striking example comes from The Tiger Temple in Thailand. This was THE place to go as a tourist if you wanted to get a picture with a tiger. Upon an investigation of the place, the tigers were found to be sedated, kept in poor conditions after closing time, and physically abused. If that's not enough, there were also 40 dead tiger cubs found in their freezers, and another 20 cubs in jars of formaldehyde.
Overall, it was a massive mess.
The Tiger Temple is still open today and they still offer elephant rides, and tiger experiences and it is still both a heavily visited AND controversial place.
Sea Turtles in Cayman Islands
Another quick example where animals are being treated not so well and making companies money are the sea turtles in the Cayman Islands. Hundreds of thousands of people visit the Cayman Turtle Centre every year. Some of these turtles are being raised for meat, and are kept in enclosures too shallow for their needs, and with wayyyyy too many in there together.
As of May 2017, there are plenty of Cruise Ship companies still offering excursions to the Cayman Turtle Center including; Princess, Carnival, and Norwegian.
"Despite claims of cruelty at the Cayman Turtle Centre and concerns about the facility's selling of the meat of an endangered species, almost all the major cruise lines passing through the Caymans offer shore excursions there, highlighting the opportunity to hold and swim with the animals. Some 70 percent of the Cayman Turtle Centre's 200,000 yearly visitors are from cruise ships, according to an economic impact study commissioned by the Ministry of Tourism, which oversees the operation."
You can read the full article here: Nat Geo, Cayman Turtles

So, what can you do about it?
If we had not done a shit-load of research before visiting Thailand, it's easy to see why tourists think it's normal and fine to engage with these places. There are advertisements everywhere and it is insanely affordable to have these incredible animal encounters.
So, what can we, as travelers, do about it?
Tour Companies
If you are going on a lengthy, multi-day tour, do your research and find an ethical company. As with any money-making enterprise, there are LOADS of companies that will be happy to take you to shitty places, because they are making money off of you.
Dig a little deeper and do your research on the company. Make sure they support local businesses that are playing by the rules and which are ethical.
To get you started, a few of our favorite tour companies are G Adventures and Intrepid Travel. Definitely check them out if you're looking for ethical companies to do multi-day tours with!
How to know if a company is ethical or not:
Do your research

The internet is literally bursting at the seams with information, so take advantage! If you are wanting to have an elephant experience in Thailand, for example, Google that shit and do some reading about various places. Read reviews on all kinds of platforms, if there is some kind of consensus in the reviews about poor treatment, that's probably the place to avoid.

Contact the company

Sometimes a good old fashioned email to the company can enlighten you on whether they are ethical or not! Ask the company questions — let them know you are wondering about their ethical practices and see what they can provide you with. If they are truly a sanctuary or are ethical, I would think they'd be happy to give you all the info you need. If you get a shady answer back, maybe that's not the place you want to visit, or maybe you need to continue researching them if their information wasn't clear.

Go see for yourself

Even if you've planned to go somewhere and arrive to find it's not what you were expecting and the conditions don't seem up to your ethical standards — don't give them your money. Sometimes even after reading, researching and contacting places, you may really only get the answer you were looking for once you visit.

Or, alternatively, if you do end up going inside the place and find that you don't feel it's ethical…feel free to use that little phone in your pocket and use your own experience to help educate others on why you feel that particular place isn't ethical. That way, maybe future travelers looking into that place don't give that place their money and they choose an ethical establishment!

Things to look out for

There are always indicators that something not quite right is going on! Look out for humanized behaviors, like animals riding bikes, or monkey's boxing — these animals are obviously made to do ridiculous things strictly for your entertainment and probably aren't experiences the best conditions. And, as we all know, animals would rather be doing what they normally do as animals rather than performing routines for our entertainment.

Look out for certain interactions with wild animals, like the ones we mentioned above. Tigers and lions and sea turtles and monkeys and dolphins are supposed to be wild animals. They aren't meant to be played with or cuddled, or be in 1000 selfies a day. We understand that there are legit sanctuaries that are helping to rehab displaced wild animals — but there is always a clear difference in those places.
Resources:
While it is certainly wonderful to use resources, like this episode, to educate yourself, here are a few of the resources we use when we are researching a destination and want to find ethical places to go.
Global Federation of Animal Sanctuaries
Do you have any other tips for participating in ethical animal tourism? Share them in the comments below!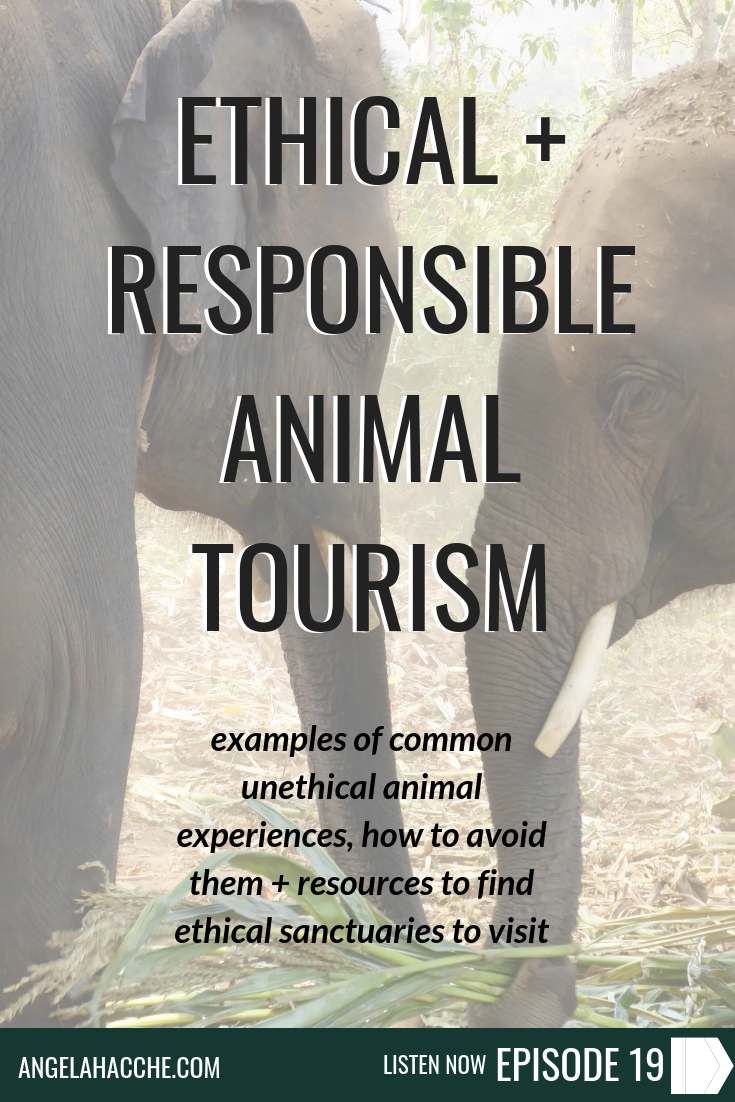 If you hover over the left-hand corner of that image over there ——-> , you can save this bad-boy for your future trip-planning resources!