Episode 11: Plan Your Trip to The Cotswolds in the English Countryside
The Cotswolds are essentially a perfect little slice of the English countryside, with charming villages, walking trails, rolling hills, castles and all that good stuff. This region is known for its stone buildings which get this sort of golden-y glow when the sunlight hits the stones.
Listen Below!
The Cotswolds are about a 2 hours drive away from central London and they are in a larger region which has the designation of an AONB (Area of Outstanding Natural Beauty), which is just so perfectly English. There are day trips with some tour companies from London, but we think driving around there yourself and spending a solid chunk of time exploring is a better option than a dumb day trip.
There's much, much more to England than London. I know you probably know that, but perhaps you need a little persuasion to visit these other areas of England on your next trip.
The Cotswolds region recently became one of our new favorites. And while this area is not somewhere to go and expect for there to be a ton of activities to do, there's just somethin' about moseying through the English countryside.
Whether you have just one day to do some exploring, or a couple days to really immerse yourself in the region, there's plenty to see!
Both Audriana and I went on separate trips to The Cotswolds and rented cars to explore the area. These are our favorite stops and things to do in some of the towns and a suggested 3 day itinerary.
Day one
Pick up your rental car somewhere in the city that's not going to be an absolute nightmare to drive out of. Have you ever driven in one of the most popular cities in the world, gotten stuck on the same stretch of road for two hours, been late to your increasingly irritated AirBnB host and nearly lost your cool in traffic?! I certainly have. To make your life easier, reserve your rental car near a location you can easily reach via public transportation, and you can drive it out of the lot and not into horrible traffic!
London to Oxford
Drive time: 1 - 1.5 hours
Oxford is pretty freaking great. There are shops, places to have High Tea or a cold pint, Christ Church University (the inspo for The Great Hall in Harry Potter) and if you're into anything literary, there are tours, shops, museums and more to satiate you.
There's even a pub called The Eagle and The Child where JRR Tolkien and CS Lewis used to share pints every Tuesday.
If you leave early enough from London, you'll have time to make a pit-stop in Oxford, do some exploring and continue on to The Cotswolds.
Oxford to Chipping Campden
Drive time: 1 hour
Chipping Campden is pretty much at the tippy top of The Cotswolds area and is great place to begin your road-trip; it's a perfect base to explore the Northern part of The Cotswolds for the first few days before heading to the Southern portion on the third day.
After arriving from London, and an optional pit-stop in Oxford, you can spend the afternoon in this quieter, old market town of Chipping Campden. There are some unique & fun things to do here, and our recommendations are below.
Cotswolds Lavender
If you're going during the right time of year (mid-June to end of July) this is a wonderful way to see those rich, purple lavender fields Southern France is typically known for. The peak of the season and best time to visit is early to mid July, as they begin harvesting the lavender from the end of July to early August.
Their website is here: Cotswold Lavender
This Lavender field is actually located in Snowshill, only a 10 minute drive from Chipping Campden, and totally worth it if you're there during peak season.
St. James' Church
This church is right in the center of Chipping Campden and well worth a visit. It is open daily and they welcome visitors for both attending services and pop-in visits.
Hidcote Boyce
Located just a short distance out of town are the Hidcote Manor Gardens -- a National Trust Botanical Garden. The gardens are wonderfully maintained and spending an afternoon walking the extensive, lush grounds is an ideal day, any day.
Visiting will cost you about $14.
You can pre-purchase your tickets here: Hidcote National Trust
Dinner at The Ebrington Arms
This is a wonderful, perfectly cozy pub where we're sure you'll have a quaint evening. It's a tad on the pricier side, but a great place to splurge for the evening. There are plenty of locals pulled up to the bar and getting a table can be kind of tricky as it only has a few table and it's crazy good.
It's also a bed and breakfast, so staying there will bring you that much closer to the goodness!
We recommend either making a reservation, or having dinner early.
See the menu & make your reservation here: The Ebrington Arms
Day two
Chipping Campden to Stratford-upon-avon
Drive time: 25 minutes
Head out early (I got there at like 6:30AM and it was fab) to explore Shakespeare's hometown of Stratford-upon-Avon before the crowds arrive. The town itself is one of the larger in The Cotswolds, with plenty of great shops and sights to check-out.
If you're purely going to see Shakespeare-related sights, you can see the home where he was born and raised in, his wife's (Anne Hathaway) home, his mother's farm and several others. The opening times to visit vary by season and day, so planning around that is key.
Buying tickets online beforehand will save you a few bucks.
You can even book your tickets for his birth-home and every other Shakespeare activity here: Shakespeare Tickets
There are usually street performers hanging around in the main square, and you can spend a few solid hours here walking the cobblestone streets, and checking out the Shakespeare sights. If you're not really that into that stuff, a quick stop for an hour or so would be plenty.
chipping campden to Stow-on-the-Wold
Drive time: 15 minutes
Stow-on-the-Wold is another one of the more popular and busier villages. There's loads of cute shops and streets to explore, as well as the medieval St. Edward's Church which has wonderful, old Yew Trees growing on either side of the entrance.
The main Market Square is full of shops and bed and breakfasts. There is a Huffkins Tea Shop there as well, so pop in for a morning cuppa and lardy cake!
stow-on-the-wold to Upper + Lower Slaughter
Drive time: 10 minutes
While these two may have a rather ominous name, the word "slaughter" is simply an Old English word meaning, "muddy place." These two teeny-tiny villages are just a 5 minute drive from one another. Or, you can take the lovely 20 minute walk through the rolling countryside that connects the two towns.
Situated right on the River Eye, these two villages are perfectly picturesque. There's not much of a downtown area to speak of, in fact, Lower Slaughter pretty much has one shop and is just a place to walk around and day-dream about living there. While there isn't a whole lot to do in each of these as it's mainly homes, here's our suggested things to do:
The Old Mill Museum
Feel free to come here for the museum alone, or grab a seat along the river and have some afternoon tea! There's also an ice cream parlor in the front part of the building, and many people skip the tea room simply because they don't know it's there!
Take a walk
One of the loveliest walks in The Cotswolds is here; the trail connects Upper and Lower Slaughter. It's nothing too rigorous, just a fairly flat walk through the countryside.
upper + lower slaughter to Bourton-on-the-Water
Drive time: 10 minutes
Bourton-on-the-Water is one of the bigger (still not THAT big), busier and more popular villages. Running right through the center of town is the River Windrush and there are lovely weeping willows and stone arched bridges that go over the river. This town does have a pretty good amount of shops to wander around and a lovely bakery called, "Bakery on the Water."
It's really nice to just walk along the canals, and check out the homes and shops.
You can stop for lunch here, or we recommend holding your appetite until you reach the next town of Burford.
bourton-on-the
-water to Burford
Drive time: 18 minutes
A beautiful town settled right on a river, it's the perfect place to spend an afternoon browsing the wonderfully preserved high street. Pop in for an afternoon tea and check out the little boutique shops full of interesting nic-nacs and antiques.
This is another very small town, with basically one main street. Don't expect to spend a whole lot of time here! The only reason I spent a good chunk of the afternoon here is because it's a really fun place to take pictures of, so if you're into that, then a couple hours will work just fine!
At the bottom of the street, you can find small parking areas alongside the Windrush River as well as a trail that runs alongside the water.
Again, while there's not many actual activities to do, as the town is fairly small, you'll have to be content with walking the lovely high street, window shopping, having tea or lunch and taking some photos. Here are a few of the main sights in Burford:
The Parish Church of St. John the Baptist
The church is open everyday from 9AM - 5PM, but they do close the church to visitors during services, so be sure to check out when their services are held.
They do offer free tours of the church on a daily basis, and if you're traveling with a group and want to pre-arrange your tour, you can do so here: Burford Church
If you opt for this choice, you can also ask to have some tea and cakes at the Lady Chapel, which is full of stained glass windows after your tour!
There is also a very cool cemetery alongside the church to walk through.
Afternoon tea at Huffkins
Huffkins is kind of a Cotswolds establishment and has been around since 1890. It's the perfect place to grab a seat by the window and enjoy tea and cakes on a chilly day.
With room for only 65 people, it's a good idea to make a reservation if you are visiting during a busy season! Here you can get a proper afternoon tea with you choices of warm scones, finger sandwiches, cakes, clotted cream, coffee, and tea, of course! It's perfectly proper and so much fun!
You can make a reservation with them online here: Huffkins Burford
The Cotswold Arms
Pick up some lunch here, they have typical pub food and drink. If the weather is nice, they also have a beer garden.
Tolsey Museum
If you want to learn some more about the history of Burford, a stop at the Tolsey Museum would be perfect! It basically covers the origin of the town and does a good job of depicting working and social life in Burford.
The museum has kind of odd hours and is open Tuesday - Sunday from 2PM - 5PM, so plan accordingly if this is one place you want to stop.
burford to Bibury
Drive time: 15 minutes
Ohhh Bibury is just the teeny-tiniest, adorable village! Again, there's not a whole lot to actually DO here, so a quick stop will be just fine!
The most famous section of homes is called Arlington Row (pictured above) and is definitely the most photographed part of Bibury. The row of homes if perfectly picturesque, set right on the banks of the River Cohn, and full of the beautiful, trademark yellow stone that The Cotswolds region is known for.
As far as actual things to do (if eating and drinking tea count as things to do) while you're there, here's our list:
The Swan Hotel & The Gallery Restaurant
Located on beautiful grounds, you can stay in this small hotel. We personally have not eaten at the attached restaurant, but have heard mixed reviews of it. But, the building itself is very picturesque and you can't miss it, as it is one of the few business in Bibury.
The Catherine Wheel
Here's an option for lunch; they have kind of…classy pub food? The inside of this 15th Century building is certainly charming, with exposed wooden beams, and a small outdoor seating area. They also have a few rooms, if you're enchanted by Bibury and want to stay the night.
Walk Arlington Row
That's the set of homes pictured above. And when we say "walk" it, you can walk end to end in about 30 seconds. It is just a set of beautiful homes set together that are particularly picturesque.
St. Mary's Church
Another church!
Overnight in Cirencester or Burford
Day Three
burford to Castle Combe
Drive time: 1 hour
If you've made it this far in your itinerary and have see all of these beautiful English towns, get ready for Castle Combe because it has been dubbed, "the prettiest village in England." How is that even possible?! All of these villages on the list will just about make you rethink all of your life plans and force you to plot ways you can move to England.
You'll still find the iconic yellow stone that the Cotswold region is known for. And because it is so darn picturesque, it's been a popular filming location for several Hollywood movies, such as Steven Spielberg's "War Horse." This perfect little town has changed very little since the 15th century, in fact, you'll still find no street lights in the town and the whole village certainly holds it's historic charm.
Here are a couple things to fill your visit:
The Market Cross
Castle Combe is another market town and has had an economy based largely on wool and weaving. The Market Cross is the centerpiece of this small village and is a medieval structure that was built when it was deemed that the town was worthy of such a feature as a market town. From what I understand, the Market Cross was used as the place to validate purchases during the market -- so, basically you can think of it as the check stand at any store!
St. Andrew's Church
As in pretty much every other little town in the Cotswolds, there's always a church to stop in. St. Andrew's Church is the one you're going to want to stop in on a visit to Castle Combe. If you're into very old churches (heck, even if you're not really) it's a perfect pit-stop and how many opportunities do you have to walk through a 10th century church!
For best times to visit, you'll be pleased to know that it's open everyday, free to walk around, and it contains one of the oldest clocks in England -- so, if you're a horologist (someone who has an obsession with timekeeping devices) it's the place for you! And you're welcome for some new vocabulary!
Town Bridge
This is the main bridge leading into Castle Combe and one of the most photographed parts of town. It's just a wonderful stone bridge passing over the river which runs through town, By Brook.
Castle combe to Bath
Drive time: 30 minutes
Bath is one of the more well known and larger towns and there is considerably more to do here that you can easily spend a solid two days wandering around.
Sally Lunn's
I listened to a podcast ALL about Sally Lunn Buns, okay. Literally, the entire episode was all about this Sally and the way she made her buns. And she was kinda a badass, so go check out Sally Lunn's! It's a tea-room and a place to get some of these famous semi-sweet breads. She basically brought brioche bread to us, so let's pay our respects for those delightfully rich buns and God bless that Sally Lunn.
Roman Bath's
This is one of the things you kinda have to go to while you're in Bath. Because Roman Bath's and the city is called Bath, because….Roman Bath's, ya know? Not to diminish how cool these, are, because they're pretty dang cool. The Roman architecture is wonderful, there are multiple thermal baths to check out as well as a museum with optional guided tours, and all that.
It'll cost you 15 Pounds to get in. Keep in mind you can't actually swim IN the Great Bath (the one you'll see in most photos), but there is the Thermae Bath Spa which uses the same water, but it is filtered so you can actually go in it.
Thermae Bath Spa
This definitely doesn't fall into the same category of ancient-ness as the Roman Bath's. But, if you had your heart set on going to a bath in Bath, this is for you. There are thermal waters and a rooftop swimming pool. It's also a spa, so you can get a massage, facial, and of course, the have tea as well.
Bath Abbey
This is an impressive Gothic Abbey with lovely stained glass windows, and massive arches. It's free to get in, but they do suggest making a donation if you visit.
The Royal Crescent & Royal Victoria Park
The Royal Crescent is just curving street of Georgian-style homes that have been converted into a fancy-shmancy hotel. The lead-in room, the most basic of them is a cool £330 a night, and if you're wanting to live like Royalty, the Garden Villa , "is available from only £1,940 per night," but it does come with a complementary breakfast, so totally worth it.
And the Royal Victoria Park is nearby, which has typical park things — like well-manicured lawns and a Botanical Garden. It's just a nice place to go for a walk, have a picnic and hangout on a sunny British day.
One Day Itineraries
It is entirely possible to take just a day trip out the Cotswolds. It'll be lots of driving, and you'll have to pick and choose some towns that are close by to each other to hangout in for a few hours, but it is do-able. We wouldn't do it, because once you arrive, you won't want to leave. But hey, do as you please.
Day trip option 1: Stratford-upon-Avon, Chipping Campden, Stow-on-the-Wold
Day trip option 2: The Slaughters, Burton-on-the-Water, Burford, Bibury
Day trip option 3: Burford, Castle Combe, Bath
Have you been to The Cotswolds? What was your fav little town,
or one you think should be on this list?!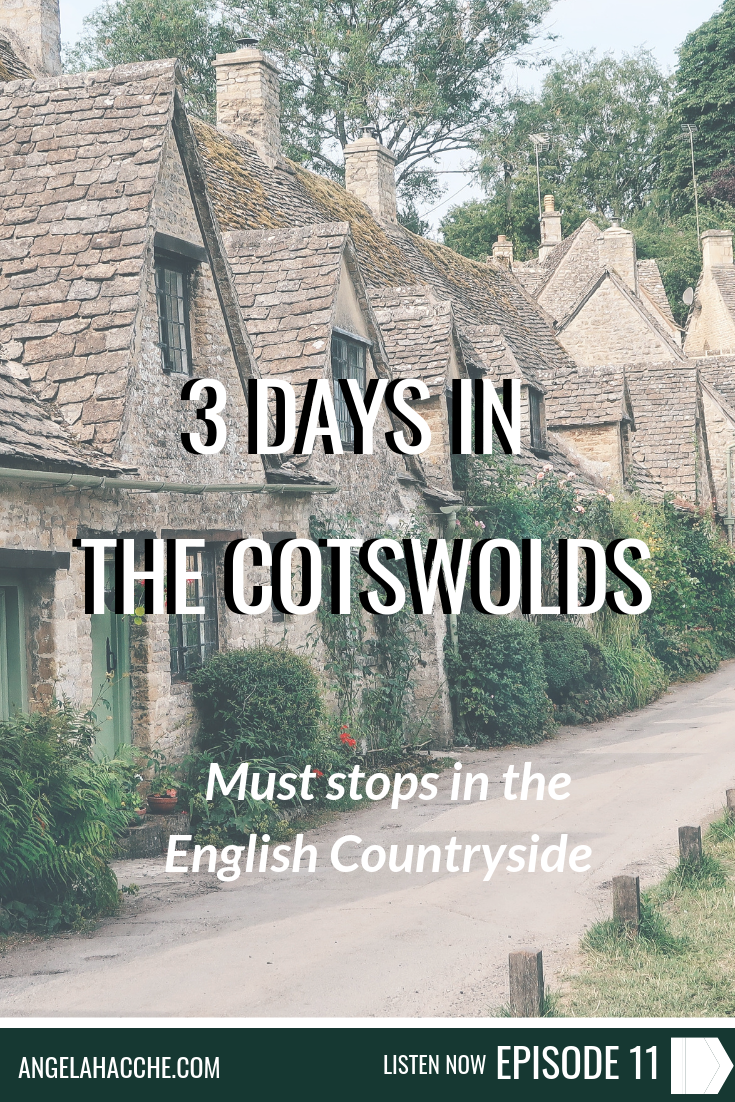 If you hover over the left-hand corner of that image over there ——-> , you can save this bad-boy for your future trip-planning resources!