You're Out of Debt...Now What?
Holy shit, you did it! I just recently paid off the last remaining bit of my credit card debt and now I'm deciding what to do now to build my wealth and prepare for the future.
But first, don't forget to celebrate paying off your debt — it's a huge accomplishment! Take some time and think about that major goal you just crushed and do something nice for yourself. And by that I mean, like save some money and buy yourself an ice cream cone or a new shirt or something…this is not a reason to go spending loads of money on something just 'cause.
Hopefully by now, you have a better understanding of money and have a sense of empowerment over the fact you were in control of your money and got yourself out of debt!
And now that you have no more credit card payments, car payments, student loans, and you've finally paid off that loan shark, you now have the splendid opportunity to do something smart with your money!
Let's take a look at what the next steps are, shall we?!
Make sure you have these things under control before moving on:
A small-ish and big emergency fund
I have written in some detail about the importance of having an emergency fund. The gist is this: when something in your life comes up like, you suddenly find your out of a job for a few months, you have some major car repair you have to do, a tree falls through your roof — you have 3-6 months worth of money saved up stashed in your bank which you can tap into so you don't have to go back into debt for these things.
You also need a small emergency fund of about $1,000. This is for the more common emergencies like, you need new brakes on your car, your dog ate something it shouldn't have and you have an unexpected vet bill.
You can read more about emergency funds here: How To Start Taking Control Of Your Money

A monthly budget you feel in control of
Budgeting every single dollar I spend and every single dollar I make has made the most significant impact in me getting out of debt and in saving money.
How else can you know what you can and cannot afford if you don't know where your money is coming from and going to?!
I'll be the first to tell you it's a pain in the fucking ass to do it. To do it every day, every week, every month and every year. To have a budget for groceries to stick to and keep track of. It is not easy and it never will be — but as with most things in life, the most important things we do are difficult, but worth it.
You can read about how I budget here: Why Having a Budget is Crucial
Okay, next I'll be sharing what I will be doing in my quest to save money and be financially stable and independent. First, I'll talk about what I'm doing with my emergency fund savings.
Open a high interest savings account
Until just recently, I had my emergency fund in a regular savings account that wasn't earning interest. This is dumb. I wish I had started this learning process earlier as I could have been earning money for a few years, but I guess, better late than never, right? In any case, if you're reading this and you have a savings account that is not earning you interest, consider doing what I just did!
Opt for a Money Market Account
I opened a 360 Money Market Account at Capital One to store my emergency fund in. And I'll tell ya why! I don't like having my money in things like stocks and bonds, as it scares me a little bit.
Maybe later in life, if I have some extra money, I will feel more comfortable with the idea of my money being in the stock market, but for now, I would rather not. There are a lot of people who recommend putting your money into an IRA (Roth or Traditional) to save for retirement, so if you are going that route, be sure to do research and try to understand what you can about the process of being invested in the stock market.
Okay, so why do I want to put my emergency fund in a money market account? This money will not being in stocks and/or bonds, it will be accessible in the event I have an emergency and need to use it and it earns 2% annual interest for accounts with $10,000+ in them. For accounts under $10,000, the account earns about 0.86%.
As I plan on just putting it in there and forgetting about it until I need it, this is a great option to earn interest on my money until and if I need to use it.
Regular savings accounts earn basically no interest (last month I earned 50 whole cents on my emergency fund at my previous bank) and you can contribute and withdraw money as you need to; there is a limit of 6 withdraws per month from the money market account.
As is the idea with earning interest, the more money you put into the account, the more money you'll earn on it because of interest. To give you an idea, if your account has $20,000 in it, you'll earn $400 on that money. If, the following year, your balance is now $32,000, you'll earn $640. Much better than the 50 cents I would be earning with my money in my previous savings account, right?!
Start saving for a home
Next on my list, is to start saving for a home. The plan is to buy something which I can pay off relatively quickly (like 5ish years) and then use that property as a rental property to continue to earn money every month toward retirement.
First, I'm focusing on saving money for a significant down payment (about 20% of the total price of the home) and I'll tell you how I'm going to do it!
In that same money market account I have my emergency fund in, I will be putting my money I'm saving for a down payment. Why? Because I will be earning the highest percentage of interest from that account — and why not take advantage of being able to earn more money?! At a certain point, after I've saved a certain amount of money in that money market account, I'll be withdrawing a chunk of money and transferring from it from the money market account to a CD account.
What's a CD Account?
A CD Account is another high interest earning account that is not based on the stock market. These accounts, are intended for you to kinda put money in there and let it be. Which is why I'll be using it as my means to help me save for retirement. I am opting for the money market account to store my emergency funds because I am not penalized for withdrawing money, if I need to use it.
Once you buy a CD, that money is essentially untouchable for however long you've purchased the CD for and if you do need to take it out, you'll have to pay a penalty fee.
And the longer you have your money in a CD, the higher the amount of interest you accrue.
Here's an example:
If you buy a 1 year CD, you earn 2.5% interest.
If you buy a 3 year CD, you earn 2.7% interest.
If you buy a 5 year CD, you earn 2.9% interest.
These CD accounts become really advantageous the more money you have and the longer you can keep that money in there. If you'll be using a CD account as a means to save for retirement, the compounding interest over that long period of time works out pretty well.
Here's some math to give you an idea:
A 1 year CD of $5,000 will earn $124
A 3 year CD of $5,000 will earn $416
A 5 year CD of $5,000 will earn $768
You can always add more money to these accounts when the are at the end of their term, and you can always open multiple CD accounts.
So why wouldn't I just put my money right into that CD Account, rather than the Money Market account that is earning 2% interest?
Because my money market account earns 2% interest for balances over $10,000 and I may need that money at any time, in the event of an emergency. If I were to put that money into a CD account, rather than the money market account, I may be earning more interest, but I don't really have access to it if I need it.
So, I will be doing the following:
I'll be keeping my emergency fund in my money market account where it is earning 2% interest and is accessible AND saving money for a down payment for account in that same money market account. This way, I'll have more money in that account, which will earn me more money! Does that make sense? Let's have an example, shall we?
Say your money market account has $20,000 for an emergency fund and you've also saved $30,000 for a down payment for a home.
That means, the total in your money market account is $50,000 and you are earning 2% interest on that amount. The interest works out to $1,000.
Now, if you were to try to save money for a down payment in a CD account, rather than that money market account, you'll only be earning $749 in interest (a 1 year CD at 2.5% interest) instead of $1,000. You could always purchase a 3 year or a 5 year CD, but if you are wanting to buy a home in the next year, you wouldn't be able to touch that money until that time frame is up.
So, I'll be using a combination of my money market account and my CD account to save for a home and to save for retirement. Essentially, I'll be saving money in my money market account until it's a big enough chunk that it makes it worth it to purchase a long-term CD so I can earn the maximum interest on a large enough chunk of money. And then the next big chunk I can save via my money market account, I'll be combining with the 1st CD I buy to make that big chunk of money and even bigger chunk of money! And so on and so on and so on, earning the maximum amounts of interest in both my money market and CD accounts!
Listen, I know this is confusing as shit, and the whole point of me writing about it is because no one really taught us these things as kids and it's SO freaking hard to figure out what we're supposed to do as adults. I, obviously, am still in the process of figuring out all this stuff myself!
With a seemingly endless amount of options for which to save money, doing your research about them is key. For you, a Roth Ira may be the perfect fit. And maybe, if you're like me and don't want to play in the stock market, the combination of a Money Market and a long term CD account is the right option.
Either way, do some research, talk to people who have these various accounts and start gathering information.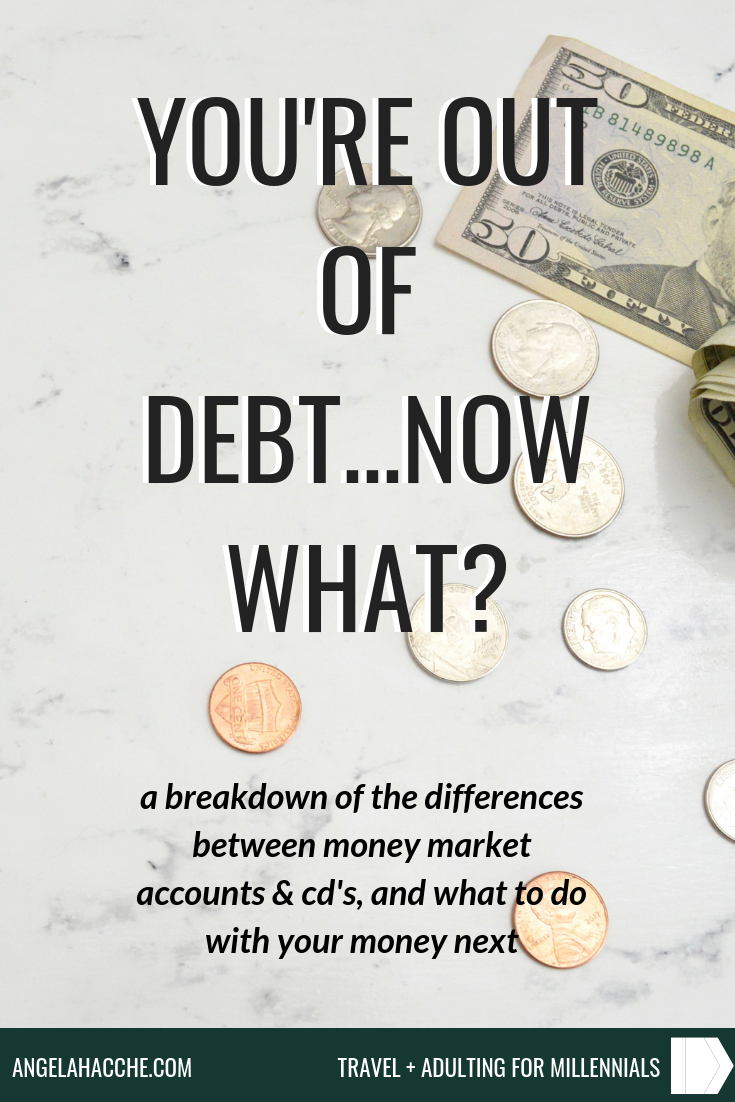 If you hover over the left-hand corner of that image over there ——-> , you can save this bad-boy to re-read over later!